Servant Season 3
Now Streaming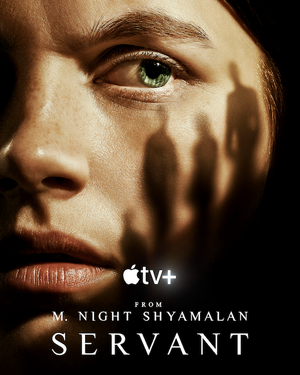 From M. Night Shyamalan, Servant follows a Philadelphia couple in mourning after an unspeakable tragedy creates a rift in their marriage and opens the door for a mysterious force to enter their home.
The ensemble cast returning for Servant season three includes Lauren Ambrose, Toby Kebbell, Nell Tiger Free and Rupert Grint, with new addition Sunita Mani.
Need to catch up? Apple TV+ is available on the Apple TV app in over 100 countries and regions, on over 1 billion screens, including iPhone, iPad, Apple TV, Mac, popular smart TVs from Samsung, LG, Sony, VIZIO, TCL and others, Roku and Amazon Fire TV devices, Chromecast with Google TV, PlayStation and Xbox gaming consoles, and at tv.apple.com.
Fandom's Servant Wiki has everything you need to know about the series and a place for fans to discuss it all.
Main
Characters
The names and faces from the world of Servant. Find more here.
Servant
Wiki
We're a community run and maintained by people just like you! Created by fans, for fans, the Servant Wiki is dedicated to creating a comprehensive and informative resource about all things having to do with the Apple TV+ drama, Servant.