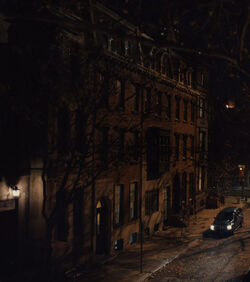 The Turner house is a Brownstone building and is the residence of Dorothy and Sean Turner.
Interior
The house features a deluxe kitchen to accommodate Sean's job as a chef. The size of the kitchen enables him to prepare large quantities of food to serve at special events. This is also allows other chefs to work along side Sean in the kitchen, such as Tobe.
To accommodate the array of dishes and for his own enjoyment, the residence also features a large wine cellar with a substantial array of wines and other alcoholic beverages.
Upstairs features bedrooms for the Turners and Leanne Grayson. The room allocated to Leanne is the coldest in the house, it leaks, and it has a dysfunctional window.